Spiced for Flavor, Not for Heat!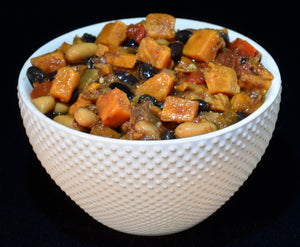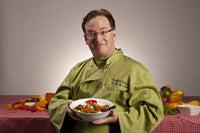 About Manolo's Best
Welcome to Manolo's Best Farmstand Chili and Soups, the creator of healthy and nutritious vegan, gluten-free and soy-free chilli and soup recipes as well as Whole Foods supplier of shoppers' favourite ready-to-eat vegan foods. Our mission now and since our founding days, is to bring joy to our community through delicious food.
Our story begins in 2010 when Mitch Wolinsky, now better known as Chef Manolo, on a quest to improve his diet through plant-based food, discovered that the selection of ready-to-eat prepared vegan dishes in stores was quite disappointing. And so, at the encouragement of his corporate executive wife Yvette, he started to work on his own recipes. He created a nutritious plant-based chilli recipe prepared with high-quality ingredients that was vegan, gluten-free and soy-free. He also developed a recipe for Roasted Sweet Potato Soup with reduced sugar and sodium. The soup was vegan, gluten-free, soy-free and dairy-free as well! Thanks to this innovation, Chef Manolo's dishes were perfect not only for vegans, but also for people with food allergies since they were designed to be free of the top eight most common allergens.
What People are saying ABOUT US
I've bought both the roasted sweet potato chili, as well as, the original recipe and I found that grandchildren love the roasted sweet potato while my husband and I love the original recipe. It's great over jasmine rice or as huevos rancheros for breakfast. Especially now, I plan to stock up on it since I can freeze it and have it whenever we need it. 

Emily Donado
When we could not find any of the delicious chili on Whole Foods/Amazon grocery delivery, we reached out to the company - the response was prompt and the owner went out of his way to help. A tasty and healthy product and an outstanding customer service make a perfect combination. We will be a regular customer and we could not thank you enough Mitch the owner.

Sean FX Prime
When I have a craving, Manolo's farmstand chili is my go to. Their sweet potato chili is an excellent canvas for all of my go-to meals and is a staple in my house. I usually like to snag a couple, because they freeze so well, especially for those busy weeknights where I want to curl up on the couch after a long day and eat a bowl of comforting chili. I love the fact that it's vegan, and that I can choose what I want to put in it (meat, beyond meat) or just have it as a fun guilt free side to fill my belly!

Anja Jones
A friend of mine sent me a care package with several items from Whole Foods after having surgery. To my (pleasant) surprise was this regular chili, and Manolo's sweet potatoe chili (I posted review there as well.) Both chilies were amazingly good. This is not "regular", it tastes like chili that my Mom would make from scratch. It was great comfort food. Made me feel like I was back home! And that's a good thing. :-)

Amazon Customer
My family first had Manolo's chili back in the days when it was being sold at places like antique car shows, but today I got my 24 ouncer of roasted sweet potato chili in a very welcome delivery from Whole Foods/Amazon prime. This was just the thing for a day that had turned cold. We are four people who really needed some delicious warmth right now. This hit the spot. Manolo's chili is going to be a staple for us as we do the right thing and stay at home. I feel lucky to have a food that is both tasty and healthy and vegetarian.

Thomas Joseph